What are Moves and Spots and how are they created? Follow
In order to make it easier to highlight moments of interest throughout your day, the Flow app divides up your movements into bite-sized chunks for easy comparison.
These take two forms that appear as cards under the daily summary in your data feed. The two types of cards are called Moves and Spots.
I like to move it, move it!
Moves are just that, your movements! When you take a stroll from A to B, hop on a bike and go for a ride, jump on the bus for your commute… we use your phone's GPS measurements to map out your route through the hustle and bustle of the city.
Slide along the graph curve to highlight a particular pollution peak or fresh air moment and you'll see the corresponding point pop up on your map.
Moves are detected when you travel at least 300 meters from your starting point while carrying both Flow and your phone. They'll keep going until we detect that your phone hasn't moved more than 300 metres for more than 20 minutes.
This should help to filter out any quick stops off at the shops, so you get a fluid map of your whole journey without unnecessary breaks.
That hits the spot!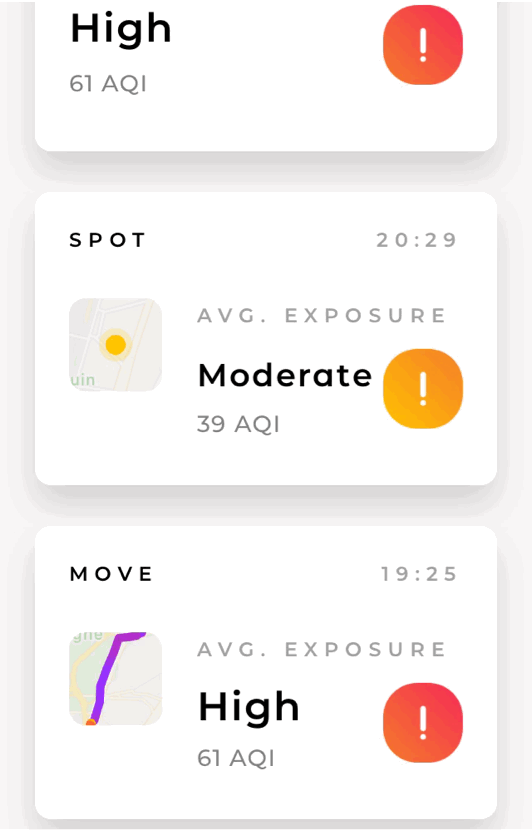 Spots occur when we don't detect a big change in your GPS location for more than twenty minutes. They are designed to help you track air quality at home, at work, at the gym… anywhere really!
Use the map to see how air quality changed during the time you spent in each location. You'll see higher data granularity in Spots than you will on the main summary screen, helping you highlight pollution peaks at a much smaller scale.
Please note: To track your Moves and Spots in the app, you'll need to activate GPS permissions for the Flow app and make sure GPS tracking is switched on and the app is open in the background on your phone.
How many Moves and Spots should I see in my day?
There's no limit to the number of Moves and Spots that can appear in your daily feed. The more you get around, the more Flow does too!
In most cases, your Moves and Spots will fit together consecutively like a jigsaw puzzle to make up your whole day.
There are some cases, however, notably when you travel less than 300 metres, where you might see two Spots in a row. (Haven't you always wanted to try that sweet-looking restaurant across the road?) In this case, the minimum length of a spot is 5 minutes.